Introduction to Disaster Services
Join us!
What We Do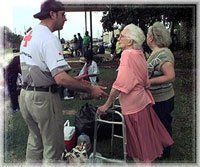 Our American Red Cross Disaster Action Team (made up of all Central Maryland disaster response volunteers) is a well trained unit that responds at a moment's notice to disasters locally and across the country. They are on-call at any time of the day to:
Provide emergency assistance & comfort to disaster victims
Survey homes for damage and losses
Authorize temporary shelter and purchases of food, clothing and other immediate emergency assistance based on needs and loss
Assist with the feeding and sheltering of disaster victims
If professionally qualified, assist with the physical and mental health needs of disaster victims
Teach disaster preparedness in your community
Participate in local drills
Respond locally, statewide, and nationally to different disasters
Becoming A Disaster Action Team (DAT) Member
We provide all the training you need to help you become a qualified DAT member. You can get additional information about Disaster Services groups and activities by viewing Introduction to Disaster Services, an interactive online course. Complete and submit the volunteer inquiry form to start the process of becoming a DAT member.
"You never know when
you might need help.
It is an honor to be able to
help other people." Michael Lawson

Interested in nursing opportunities?


When this happens...in the middle of the night, we're there for you.