Blood Services






The Greater Chesapeake and Potomac Blood Services Region provides life-giving blood to more than 80 area hospitals, collecting some 1,300 units of whole blood each day. Each unit of whole blood from a single donor can be separated into components and used to save three or four lives.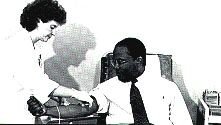 The Red Cross holds blood drives in cooperation with businesses, churches and community groups daily to meet the needs of the community. (There are also donor centers in locations near you.) You can be a blood donor if you're at least 17 years of age and weigh at least 110 pounds. Regular donors can give the gift of life every 56 days. To ensure the safety of the blood supply, Red Cross laboratories perform seven different tests on all units of donated blood.
Designated Donors Some patients prefer to receive blood from people they know, who are called designated or directed donors. There is no medical evidence that this blood is safer than blood donated by other volunteers. Designated donors must meet the same requirements as community donors. - www.ucsfhealth.org
Blood products provide life-saving help to people in many different circumstances. Patients suffering from cancer, aplastic anemia or other blood disorders depend on hemapheresis donors for their treatments. The donor's blood is filtered through a special machine to extract platelets during the hemapheresis donation process.
To donate blood, or for further information on Blood Services, click here.

For more information on becoming a volunteer with the Blood Services Team, click here.


---