Join us!
Watch a compelling video about how
Red Cross services impacted two members
of the armed forces and their families.
(YouTube)
What We Do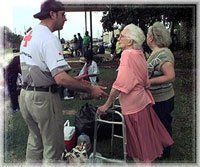 Our American Red Cross Volunteer Disaster Action Teams (DAT) are located in Baltimore City, and Anne Arundel, Baltimore, Carroll, Harford and Howard Counites. When on call they respond to local disasters such as house fires, floods and other events. They provide emergency food, clothing, shelter and other services. Licencesed mental health workers and nurses who address medical and counseling needs. Disaster action team members can also be involved in other activities including disaster drills, community outreach / education and, if desired, deploy to national disaster relief operations.
Becoming A Disaster Action Team (DAT) Member
We provide all the training you need to become a DAT member. Learn more about ARC Disaster Services by viewing Introduction to Disaster Services, an interactive online course. Complete and submit the volunteer inquiry form to start the process. You will then be invited to attend an orientation where you will learn even more. You can also call the Emergency Services Department at 410 624 2040 and ask to speak to someone about being a Disaster Action Team Member..
"You never know when
you might need help.
It is an honor to be able to
help other people." Michael Lawson

Interested in nursing opportunities?


When this happens...in the middle of the night, we're there.